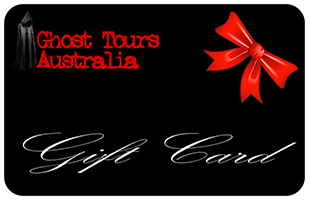 Ghost Tours Gift Cards Now Available, click gift card image for more information!
Discover the ghosts of Sydney – the oldest haunted city in the Great Southern Land.
Three centuries of accidents, incidents, tragedies, crime and murder have made the capital of New South Wales rife with ghosts. The land on which Sydney rose was already ancient when the First Fleet arrived in 1788, home for aeons to the spirits of aboriginal peoples.
Born of convict toil, the very rocks from which Sydney was carved contain the spirit of the city. Sentenced to death, transported for life, many of those who arrived in chains still haunt the streets and lanes, their presences bound to the stone they cut by hand under the stroke of the lash.
Walk the once crime-ridden streets of Old Sydney Town, where hangings and floggings, disease and death were ever present. From haunted houses on the harbour, to mansions in the hills, government institutions and abandoned stations Sydney has haunted sites galore. Visit the haunts of convicts, soldiers, criminals and colonists – among the modern high-rises and towers.
Through their tales discover Sydney's haunted past…
Hear Real Ghost Stories. Visit Real haunted sites.
Presented by Ghost Tours Pty Ltd, and veteran ghost hunter, Jack Sim.
BEWARE: Ghosts have been seen, heard & felt on Ghost Tours.